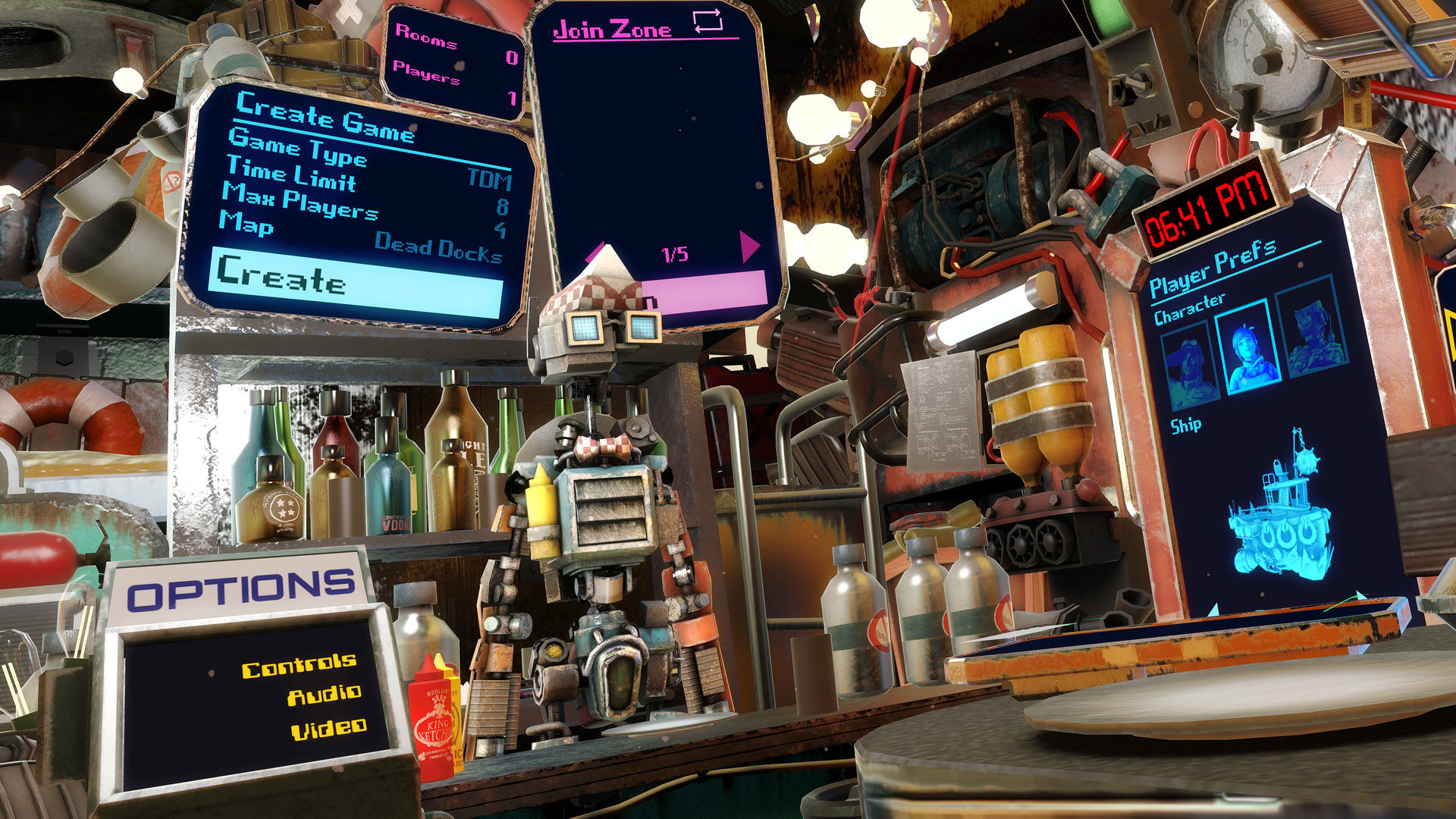 In the last 3 – 5 years virtual reality has come a long way. Gone are the days when there was only the Oculus Rift and HTC Vive, and each headset had only a few playable, proof of concept, games. Now there are multiple headsets like the Sony PlayStation VR, HTC Vive, Oculus Rift, Oculus Go, Google Cardboard, Samsung Gear VR, Microsoft Hololense and the Windows Mixed Reality headsets.
The headsets are coming along, but they are only half the story. VR gaming wouldn't be VR gaming without the games to give you a real sense for the current state of virtual reality.
List of the Most Popular Virtual Reality Games in 2020
Boneworks
Headsets
– Oculus Rift
– HTC Vive
– Windows Mixed Reality
Release – (Scheduled) 2019
Brandon Laatsch is a filmmaker known for his involvement with RockJump Studios. It's that Youtube channel with that Asian dude (Freddie Wong) does a Rocket Jump. Anyway, Stress Level Zero is an all the way decent virtuality reality game studio.
Their other two VR games, Duck Season and Hover Junkers, have both done well in the Steam reviews and are worth your time and money. Brandon Laatsch is an artist surround by a team of geniuses. Shill complete.
Back to Boneworks. The game is scheduled for release sometime in 2019. We only have what YouTube gives us, to go off, but the gameplay/walkthrough interview with Stress Level Zero and published by Node look incredible.
Duck Season
VR Headsets – Oculus Rift and HTC Vive
Release – 14 September 2017
Duck Season is an unexpected throwback to the classic duck shooting games of the 1980s. You play a small child whose mum has just bought him a new video game. Then load the tape and press play inside the game to cross the fourth wall.
It was also made by Stress Level Zero, and I know fanboying pretty hard, but if you have an HTC Vive or Oculus Rift you really need to play this.
Duck Season is a wave game with a horror twist. Your virtual canine companion becomes less virtual as the game progresses. I can't praise this game enough. The mechanic and gameplay are exceptional. You have to hand load your own shotgun, which is a cool VR twist and the gun mechanics are sturdy and believable.
I am not going to spoil the story, but it's an intense experience which VR kicks into overdrive.
Read also about VR development in 2020
Hover Junkers
VR Headsets – HTC Vive and Oculus Rift
Released – 6 April 2016
After Duck Season and Boneworks, it wouldn't be right to not include Hover Junkers. Hover Junkers was Stress Level Zero's first commercial title. Play as a scavenger in a dead world. Fire your big old guns at the enemy in 360 degrees of VR space. Hover Junkers is an absolute steal for $25. The online community is slowly dying which is sad because it made the game what it was, however, there are still games and the mechanic is worth the occasional empty lobby.
The virtual reality (VR) actually feels like you are taking cover and shooting over the metal sides of your ship. Hover Junkers, is room scale VR. Stress Level Zero cleverly addressed the confines of space by confining player to their ships. If you choose a ship that's too big for your room, you will kick stuff over.
Hover Junker was multiplayer at launch. Multiplayer in tandem with VR really makes it feel like you are in an arcade or playing with your squad. I have no doubt that this game will help shape the future and set the standards of VR. Hover Junkers is a truly unique experience and a virtual reality game that I encourage you to play
Shadow Legend VR
VR Headsets – HTC Vive, Oculus Rift and Windows Mixed Reality
Released – 8 March 2019
Fighting demons with a sword is a timeless format that VitruviusVR rethought for virtual reality. Shadow Legend is an RPG where you play as Grand Master of the Knights Templar. Explore the realm as you fight, loot, cook, shoot, throw and catch your way through a well put together the virtual world. Shadow Legends ticks all the boxes.
It has great cinematics and graphics and the fighting mechanic and gameplay are realistic. There is an exponential learning curve. Master the blade and hack up your enemies. VitruviusVR is another quality indie studio making great games.
Beat Saber
VR Headsets – Windows Mixed Reality, HTC Vive, Oculus Rift
Released – 2 May 2018
Beat Saber isn't possible without VR. It is unexpected and there isn't a traditional video game category I think it fits into. It's like lightsaber fighting while you play guitar hero. Beat Saber was marketed to regular people, which was unusual considering VR doesn't do too well in the mainstream.
The game sold 100,000 copies in its first month on the Oculus store. Beat Saber is fun and social. This was a game designed to come out at parties. Cutting up blocks with lightsabers in time with the music is instantly enjoyable and otherwise unreachable gameplay experience.
Space Junkies
VR Headset – HTC Vive and Oculus Rift
Released – 22 March 2019
Space Junkies is a 360-degree arena-style multiplayer game made by Ubisoft. No gravity and guns. Float around and shoot people. An update scheduled for the coming days (21/03/2019), is expected to bring cross-platform multiplayer to PCVR and PSVR. The beta version of the game ends on March 25th on console and PC.
Space Junkies has already had several closed betas, but this is the first time that everyone will be able to play together. The game is so popular that it has opened in over 100 arcades around the world.
Superhot
VR Headsets – HTC VIve, Oculus Rift and Windows Mixed Reality
Released – 25 May 2017
Superhot gameplay is based around a novel concept; when you stop time stands still. It's an addictive Matrix-style bullet dodging FPS which was developed by the SUPERHOT team. This indie studio is on to something good with this one.
Hit bullets with ping pong bats and bash in skulls with telephones. Super Hot has an unreal mechanic and an interesting story. The idea is that you have been sent this corrupted game. As you play it the game tries to absorb you into its digital world. Forcing you to turn on your friends and even kill yourself in the real world.
Zero Caliber
VR Headsets – HTC Vive, Oculus Rift and Windows Mixed Reality
Released – 10 November 2018
A Zero Caliber is a VR online multiplayer which delivers as an FPS. Flipping off other players, when they make mistakes, and patting their heads condescendingly when they do well is reason enough to don your VR headset and charge into this virtual multiplayer battle. Once the novelty wears off, Zero Caliber is still a fun area style similar to a COD or counter strike.
Minecraft
VR Headset- Oculus Rift, Windows Mixed Reality, Samsung Gear
Released – 15 August 2016
Minecraft is art. A 3d virtual space that you explore and build one block at a time. Minecraft can be played on the Gear VR headset, Oculus Rift and Windows Mixed Reality Headsets. Dozens of devices are capable of running this immersive game and some of these devices are untethered allowing for portable gameplay.
Skyrim
VR Headset – Oculus Rift, HTC Vive and Windows Mixed Reality
Released – 17 November 2017
Skyrim was easily one of the most significant games released this decade on console and PC. It's a fantasy open world RPG where you kill dragons to get better at talking to them. Bethesda Game Studios has released multiple successful titles in the Skyrim universe.
Now Skyrim is on the Oculus Rift, HTC Vive and Windows Mixed Reality headsets. There are a lot of mixed reviews about how well the game transitions to VR and the hardware you use has an affect the quality of gameplay, but it's a solid VR title. It's still early days for VR video games. I think that Skyrim's success is a good indicator that we can expect more incredibly successful PC and console games to release VR versions and that is good for the industry.
Virtual Reality is Almost There
Can you hear virtual reality scratching on the glass of mainstream culture? It's only a matter of time now. The largest tech companies in the world are steering the ship and everyone is getting on board. Read also about the best video game development companies in Europe
The headsets are coming along and while the games are still basic they have almost overcome screen gaming's four-decade head start. Better hand controllers, haptic gloves. It's all the works. Get excited and play these games.