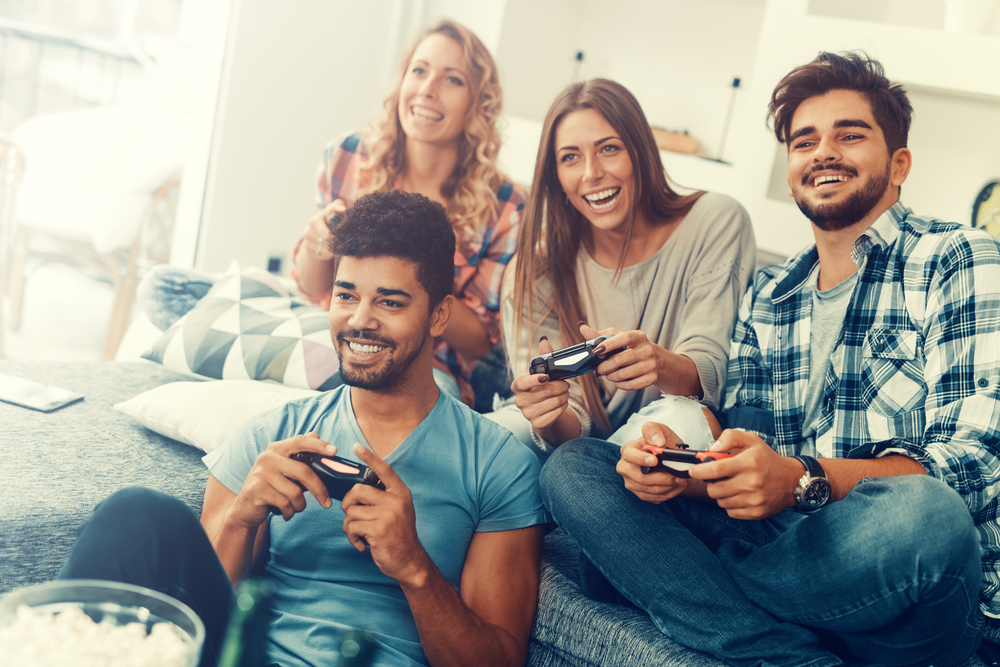 For the last two decades, playing videogames have become an amazing hobby or, to be more precise, an engaging addiction for millions of people around the world. With the number of fans, the numbers of the game development companies and gaming products increase significantly. But there are only few that have succeeded in gaining billions of dollars. Read below
Top 10 richest video game developers in the world in 201
9
10. Square Enix
Value: $1.26 billion
Headquartered in Tokyo, this company is known not only for videogame production but also for anime comics (manga), books, and motion pictures. 
The company's founder, Yasuhiro Fukushima, is the largest shareholder.
Square Enix is focused on arcade and RPG genres, their most popular projects are, probably, Space Invaders, Danus, and Final Fantasy. The last one was released for all popular gaming platforms. 
Discover also what are the Best Selling Video Games Ever
9. Ubisoft
Value: $1.85 billion
One of the legendary top game developers in the world that was founded in France in 1986 by Guillemot brothers. It published a dozen of superhero-based games but its main projects are Prince of Persia, Assassin's Creed, Far Cry, and Tom Clancy's series. 
8. Konami
Value: $3.24 billion
Konami was founded 50 years ago, in far 1969 in Osaka, Japan. It is mostly known for its soccer simulator hit, Pro Evolution soccer. Other notable releases include horror action Silent Hill, Castlevania, and Dance Dance Revolution. 
You may be surprised, but the company operates not only in the gaming industry. It also owns several casinos and entertainment centers. Besides, Konami recently invested in Healthcare and Fitness. 
Read also about the Most Popular Video Games 2019
7. Electronic Arts
Value: $4.14 billion
Since 1982 Electronic Arts produces masterpieces in the gaming. Their last release of the FIFA series just blew the minds of millions of fans around the world. A lot of gamers associate EA with the sports simulators due to the popularity of FIFA, NHL, NFL, and MMA. However, there are many other extremely popular videogames the company has published in the last decade. Just recall The Sims, Crysis, Medal of Honor, and Mass Effect. 
6. Namco Bandai
Value: $4.74 billion
This is probably the oldest game development company in the list. It was founded by another Japanese entrepreneur, Masaya Nakamura, in 1955. The company's name is not so recognizable as the ones above, but when you think about Dragonball Z or Naruto, you should know that all of this was created by Namco Bandai.
Read also about the Global Video Game Companies with Offices in Ukraine
5. Activision Blizzard
Value: $4.85 billion
The company was established after the merge of Activision and Vivendi Games in 2008. Activision Blizzard is one of the three largest game development studios in the U.S. operating several smaller subsidiaries like Infinity Wards and Treyarch. Call of Duty, Warcraft, Starcraft, Diablo, Guitar Hero are just a few of the great games Activision Blizzard has created. 
4. SEGA
Value: $4.9 billion
This is the company to which you may say "Thank you" for the creation of Sonic the Hedgehog and Pac-Man. Did you know that Sega is shortened from "Service Games"? The studio is focused primarily on the arcade genre. Besides Sonic the Hedgehog, you should consider Total War, Football Manager and Virtual Tennis as Sega's most known projects.
3. Nintendo
Value: $6.28 billion
One more Japanes studio among the richest gaming companies. A pioneer in the industry thanks to handheld devices and some extraordinary projects, Nintendo is one of the three greatest game development companies of all time. Mario, Pokemon, and Legend of Zelda are the first names that may come to your mind when you encounter Nintendo logo. Although the popularity of Nintendo Wii hasn't been dramatically increasing in the U.S. and Europe for the last years it is still very popular in Asia where hundreds of millions of people play it every day. 
2. Microsoft  Studios
Value: $12.82 billion
An exclusive publisher to Xbox and Windows, Microsoft also produces its own videogames. As a subsidiary of Microsoft, the company acts as a designer for Windows, Steam, and all Xbox versions. For example, it assisted in creating Gears of War, Halo, Minecraft, and other prominent names. 
Read also about Best Video Game Development Companies in Europe
1. Sony Computer Entertainment
Value: $13.4 billion
Also known as Sony Interactive or, simple, Sony Entertainment, the company managed to become the most valuable game development studio so far. 
Concentrated on the technologies and innovation, Sony created a revolutionary Playstation console system. Today, such popular projects like God of War, Gran or Turismo Sport are produced by SIE Worldwide Studios (a group of video game developers owned by Sony Interactive Entertainment), which include, for instance, Guerilla Games and Insomniac Games.