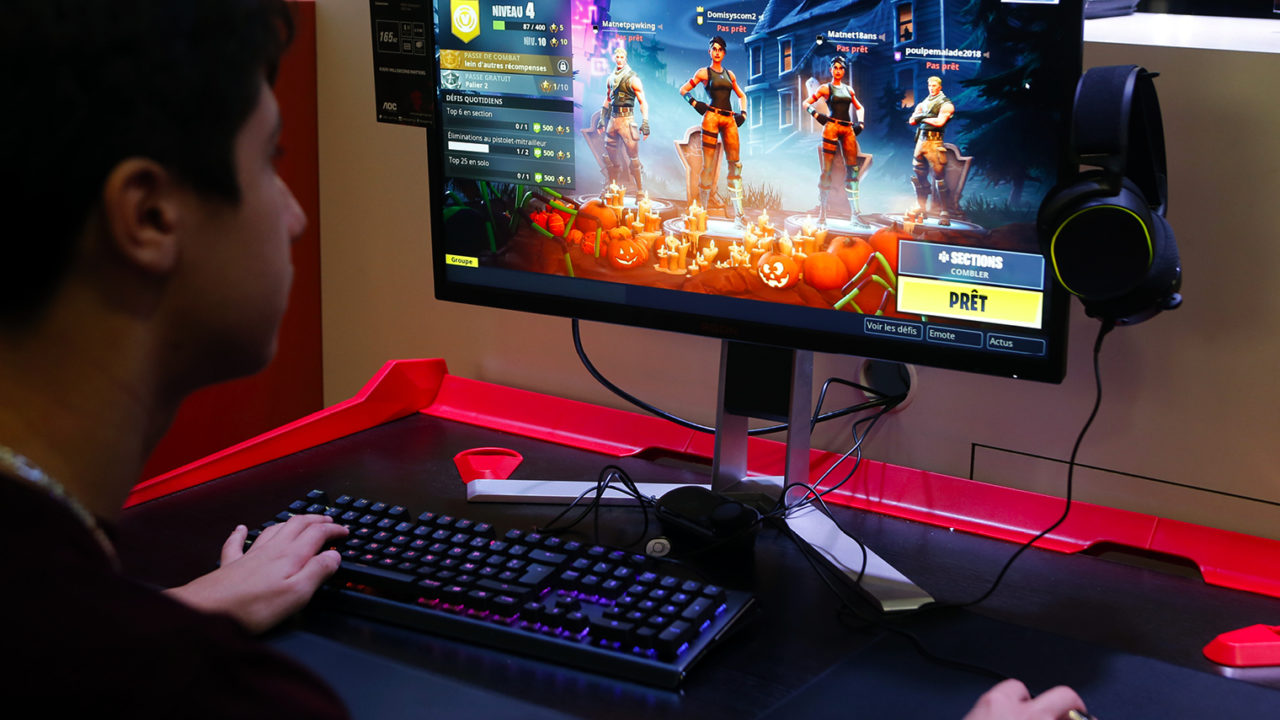 Video games are at their peak of popularity right now! For the longest time, they haven't been considered time-wasting fun for teenagers. Almost 3 billion people are currently into video games – that's practically half of the world's population. Grown men and women, or teenagers all play alike. This also makes the competition in the video game market fierce. But we can show you the best way to outrun competitors by figuring out the most effective promotion strategies?
Read also: The Power of Analytics And Promotion for Game Development
The Height of Gaming Business
By 2023, the global revenue share of the video game market will exceed $170 billion. It will probably outrun the market for the music and film industry! There is a vast field of target audience coverage due to various genres. People play shooting games, strategies, simulators, fighting games, adventures, and so on. 
Consequently, lots of industry providers are ready to fight tooth and nail for their piece of cake. How to stand out in the market among hundreds of other developers and publishers? How to conquer the hearts of your particular TA?
Be creative
Diversity is everything when it comes to the market stuffed with similar goods. Working on a gaming product, you should also be prepared for ongoing changes because people may like certain things and not take too kindly to others. There is a lot to grab in this market so keep in mind the thorough beforehand analysis of products that your competitors provide. Taking the best practices and sprinkling them with your authentic ideas may also work.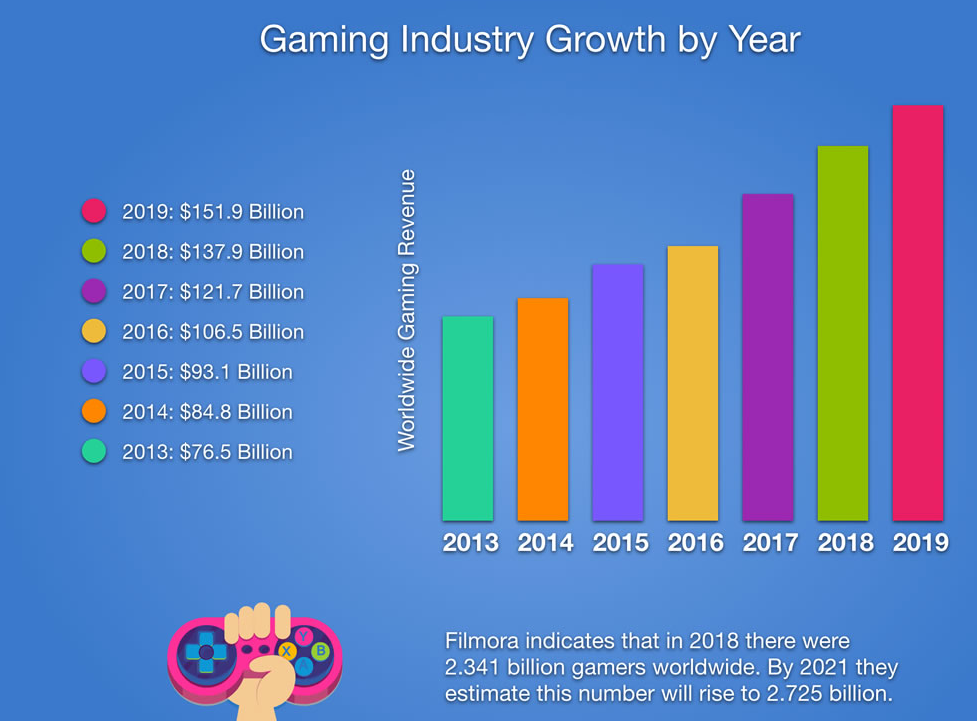 Source
Always consider feedback
Connect with your product's users, follow forums, participate in discussions. Real-life feedback is very important. Users will help make the game better in an insightful way. The main thing is to listen to regular opinions and facilitate their discussion.
Offer a range of services
If you are looking to make game development your specialty, you should provide a full range of services to your customers, constantly develop your offers, vary them. We at Melior Games offer a wide range of video game implementation services – design, development, marketing, developer assistance, and so on.
Make people recognize you
Ads, ads are everywhere. And for a good reason. Your company or product advertisement should be posted on the most popular platforms where your potential customers and users gather. What does your TA prefer? Facebook, Instagram, forums, or blogs? You should study their browsing preferences.
Read also: Video Game Marketing: Four Powerful Strategies
Study your TA
Try to figure out all the nuances of your target audience's needs. Present an individually designed product for each category of users. Come up with marketing influence methods based on the target demographics (e.g., social media influencers for a younger audience and facts or ratings for a more adult audience).
Gaming TAs – Who are They? 
More than 90% of Internet users aged 16 to 24 play at least one of their gadgets. In 2018, over 166 million US adults played video games. 52% prefer to play on their personal computers. And 42% of US residents play video games every week.
Zoomers represent the generations of the 2000s, who are now up to 24 years old. A very interesting segment for game developers. But it is not easy to get to them by conventional methods because the zoomers don't watch TV and block ads on the Internet. At the same time, they willingly spend money on games. However, the older generation is no longer lagging behind. In 2019, 50.6 million people over the age of 50 played computer video games.
$250,000 for a YouTube Video
An efficient common practice is to get the support of an influential media person. Who is the opinion leader for your target audience? Mutually beneficial cooperation with one such person brings good profits – both to you and the influencer. Those with large audiences can make $250,000 or more on YouTube. And your main benefit would be efficient traffic attraction and TA expansion, which should compensate for your marketing expenses quite sufficiently.
Games in Your Phone
Mobile games currently account for 51% of all global gaming industry revenues. Console games ranked second (25%) and PC games ranked third (24%). 62% of smartphone owners install some game in the first week after purchasing their phone. Mobile games account for over 43% of the total time spent using a smartphone as well. 
Girls and Games 
48% of females in the US report having played video games, but only 6% consider themselves to be gamers. Alternatively, 15% of men confidently call themselves gamers. Half of the American female PC gamers consider themselves to be avid gamers.
Promoting a Brand Via a Game
Games have a solid niche in marketing. Many games are used for an advertising model: users play shareware but watch ads. There are also advertisements inscribed in the video game itself. Product placement of goods within the game is a popular solution. Louis Vuitton and the American esports organization Riot Games recently launched the Louis Vuitton virtual clothing line in the League of Legends game. For the championship final held in Paris last year, Louis Vuitton created a unique Sorcerer's Cup chest.
Specifics of the in-game ads
Video games became a form of socialization
Fortnite, for instance, looks more like a social network than a pure shooter: Players communicate freely in custom games and on official servers. As a rule, not everyone is all about winning a match. Some just want to chat and have some with other people fun online.
Video games help personalize ads
91% of shoppers are more likely to prefer brands that practice a personalized marketing approach. In-game ads provide the highest level of personalization, in fact, by allowing people to literally play the marketing offer, experiencing it almost first-hand. For instance, Portal 2 features an interactive trailer of Steven Spielberg's movie Super 8 – you literally play the ads in the first person.
Video Game Promotion Tactics
Preparing, developing, and launching your game is just the beginning. You should stand out among competitors and have extensive user coverage to truly make it. If you don't have a good marketing strategy, you simply won't be noticed by your potential customers. We recommend that you use the following platforms to actively promote your product. 
Facebook
The vast majority of your target audience surely uses social media. Facebook is among the top popular platforms in this area. You can set up targeted ads to match your TA's social likes and preferences. This is a great way to stay interesting to your target audience.
Instagram
Instagram is a platform where high-quality visual content is especially appreciated. Short text sketches illustrated with relevant photos are a good way to engage your audience. As a rule, a younger audience gathers here. Although this is gradually changing.
YouTube
YouTube offers great promotion opportunities. You can demonstrate all the features of the game, tell about its specifics in detail, and follow all that with a high-quality soundtrack. You can also attract popular video bloggers to the promotion campaign, asking them to share a link to your game. Be sure to study the comments – feedback is very important.
Twitter
Short but capacious sentences used on this platform have already gained widespread popularity. Many stars and politicians use Twitter to communicate with their audience. It is a great platform to interact with your target audience as well. Tweet frequently. Use hashtags. Stay trendy.
Forums
Join dedicated communities discussing video games. On the forums, you can discuss all important issues, find out the opinion of your target audience, and gather lots of insights. Special forums for gamers are a great way to market your development.
Your own blog
Create a blog induced with valuable info on your own website. Thus, you can define both visual and textual content yourself, set up high-quality SEO promotion, and market your product via themed articles. At the same time, you get to increase your site's traffic if you post relevant content.
App stores
App Store Optimization (ASO) allows you to boost the rating of your game on the vendor platform. Efficient ASO lets your game firmly take a decent place in the app store search so that you could drive more traffic to your game page as a whole. This is an excellent way to convert regular users into your game players.
Gaming podcasts
Lots of people turn to podcasts to keep up with game updates, the latest industry trends, and captivating game reviews. Get a guest seat on a podcast or interview a host. You can become much closer to your target audience this way. Check out some of the popular video game podcasts to see if they're ready to partner with you.
Reddit
Here, you can post content about your game and get regular feedback. But it is important to ensure that your posts are not recognized as spam. There are strict rules that must be followed. Use this platform wisely.
Review sites
Publish information about your game on gaming sites and on application review websites. The choice is very large. High-quality informational content presented simply and illustratively will help you a lot in staying interesting to your audience.
Bottom Line
Video games have become a firm part of peoples' lives globally. And this market will continue to develop. The sector is profitable and promising. The competition is very high. To be a leader, you need to efficiently promote the product. Use modern platforms, employ the best practices. We hope you will find our video game marketing tips helpful.