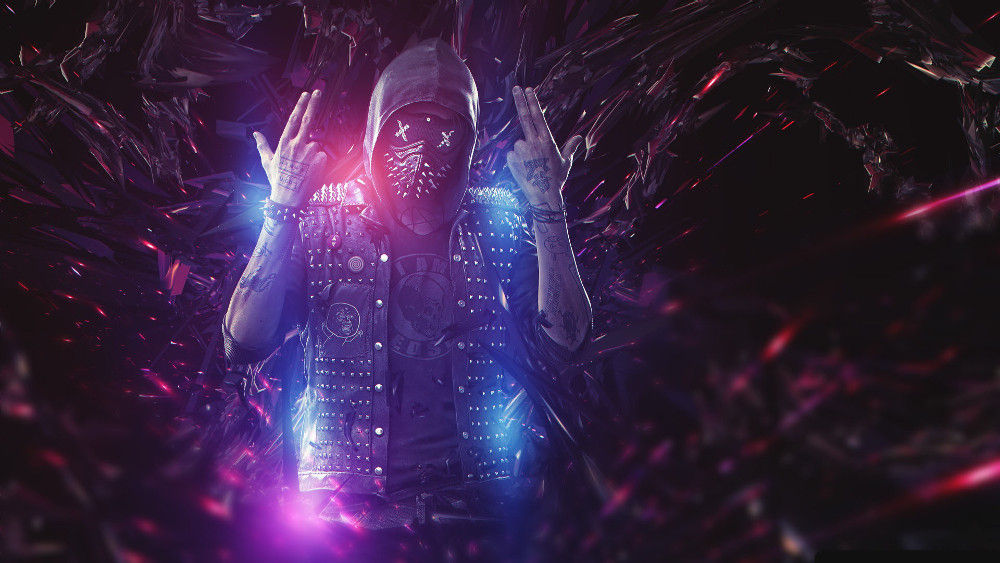 Today we will talk about a new direction in the sphere of cryptocurrency promotion – Initial Bounty Offerings, or IBOs. Many people know that there is an opportunity to make money by investing in ICO projects. Nevertheless, in order to get tokens of a promising startup, it is necessary to make investments – you spend your money now in the hope that in the future it will be possible to get them back in a larger amount. If this option seems too risky, participation in bounty campaigns can become a good solution.
In fact, the Initial Bounty Offerings (IBO) is a marketing promotion of ICO, for which organizers pay tokens that participate in the sale of ICO. It's a tempting opportunity to get tokens of the project you like, without investing your funds.
IBO – How Does It Work?
You can study current announcements of available IBO campaigns, choose the most attractive program, join it and actively spread information about the project until IBO completion.
IBOs are paid with exactly the same tokens that investors receive for their money. As a rule, before ICOs, organizers place a certain percentage of all the released tokens specifically for the reward of IBO participants, and then distribute this percentage among different types of bounty campaigns.
The dissemination of information about ICOs within bounty campaigns can be carried out by various methods. Here are the most common actions that ICO organizers are willing to reward with tokens:
Registration of accounts on the official sites of projects.
Comments and advertising signatures on specialized forums. The Bitcointalk forum is one of the main platforms for the ICO promotion – it is attended by investors from different countries, the monthly audience is more than twenty million people.
Posts, reposts, comments, subscriptions and other actions for ICO advertising in social networks (Twitter, Facebook, Youtube).
Translation of ICO information into other languages ​​(announcements on forums, white paper and other materials that are offered to potential investors from different countries).
Creation and publication of articles in thematic blogs and on specialized news websites.
Development of booklets, logos, websites.
Creation and distribution of promotional video on Youtube and other social networks.
Development of mobile applications and software.
Troubleshooting. Usually, there are shortcomings in the software of the project or the used smart contracts.
IBO In The Video Game Industry
It's time to talk about IBO in the gaming industry. An interesting project that we want to talk about is GameX (GX), cryptocurrency (token) on the Waves platform. It consists of three basic projects that will become the basis for active users: GX Marketplace, GX In-die Club and GX GPU Mining Hub.
GX Marketplace offers users the opportunity to buy and sell items related to video games; to trade virtual items by auction and direct payments without any fee. In addition, for each successful transaction within the GX Marketplace, bonus GXs will be credited to your account.
GX In-die Club is a crowdfunding platform that will allow independent developers to present their projects to the multi-national gaming community and get funding for their projects. Also, GameX creators will add bonus GXs to developer accounts.
The IBO campaign, called GameG's Bounty Hunter, is a task-oriented advertising program that allows participants to earn GXs by increasing the popularity of GameX. Free GXs can be obtained for systematic posts and reposts in Twitter, translation and support of local GameX threads on Bitcointalk, placement of advertising signatures in the Bitcointalk profile. Details about all the features and requirements of the IBO campaign you can found in the GameG's Bounty Hunter thread.
Gambling Projects With IBO Programs
IBO in the gambling industry is a promising new direction, several projects have already been launched with bounty-campaigns and rewards for development assistance. In the online gambling, there is a problem of lack of trust in the honesty and transparency of the projects.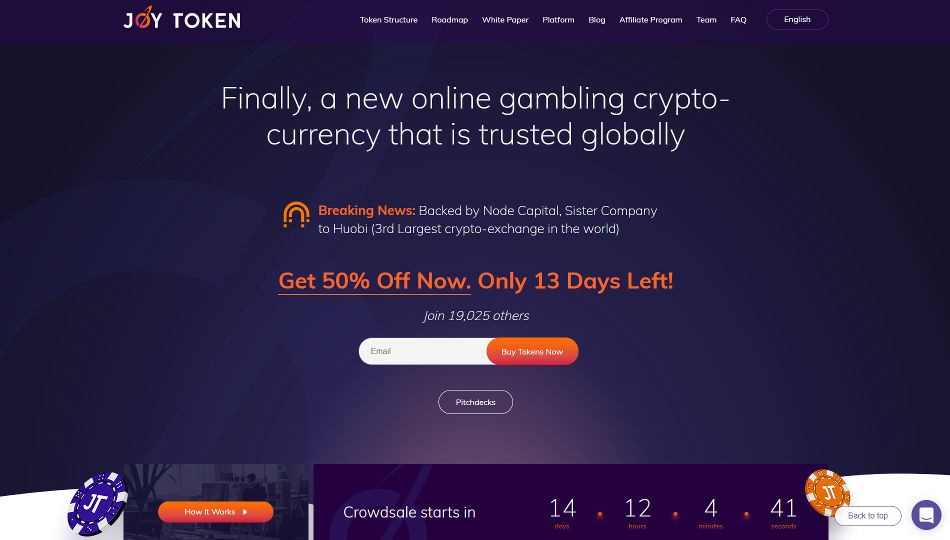 Trust affects all aspects of the industry: games, operators, systems that store customer deposits and manage their rewards. Existing mechanisms are based on a model of human control that can lead to fraud.
In addition, the development of gambling games is a complex process, there is a high probability of encountering small remuneration and regulatory requirements.
To solve problems in this area and change the situation, several projects built on a blockchain have recently appeared with own cryptocurrencies and IBO programs, where you can earn a number of tokens, helping in the promotion of projects.
Joy Token is a gambling project that launched its campaign to attract online game developers. Joy Token creators want to increase the number of interesting games, providing developers with a platform for developing new online casino games and organizing easy access to online casino owners interested in new games. The whole process is implemented in three steps:
Integration of games will be easier thanks to the own Joy Token game platform. Developers will get instant access to the online games market through the PlayCosmo website.
The game development reward is credited to the developer account in the form of Joy tokens.
Joy Token fulfills all regulatory requirements, acting as an intermediary between interested owners of online casinos and developers.
The use of blockchain technology will attract new players who want to get anonymity and full transparency of the online casino sites. However, not only game developers can earn tokens. Joy Token IBO involves remuneration for participating in Twitter campaigns, blogging about Joytoken, promoting it in forums, social media, creating Youtube videos, translation of Whitepaper in different languages, creation, and moderation of local Telegram / Wechat / Kakaochat groups.
The next example is a Grondigital platform for gambling, where transactions based on cryptographic technologies without human intervention and smart contracts play role of autonomous trust agent. Grondigital positions itself as a safe and transparent gaming platform on the blockchain, which seeks to attract credibility to the online gambling. Their plan is to distribute their own cryptocurrency GRO, which can be used for safe, transparent and legitimate games in online casinos.
Signature Campaign assumes that the campaign participant will leave posts in the thematic Bitcointalk threads with marketing signature. Also, you can get stakes for participating in the Translation Campaign. To become a translator, leave an application in the Grondigital Bounty thread on Bitcointalk.
You can take part in the Content Campaign. The award can be obtained for the creation of unique content – articles and videos about the Grondigital system and its advantages.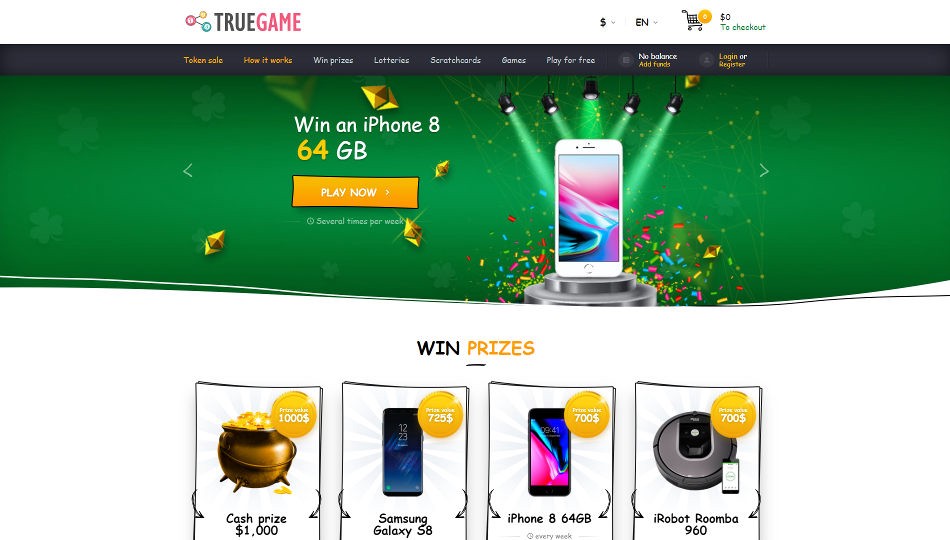 Truegame is another project in the world of gambling, which positions itself as a platform for iGaming. The company offers players a variety of different online games, including prize draws, giftboxes, lotteries and scratch cards. The creators plan to use blockchain technology and smart-contracts to ensure transparency of the games and good chances for the players. Smart contracts will ensure that numbers in all games are randomly generated, and a public record of each game will be stored in the blockchain.
Now the platform creators are seeking for investors and are offering to earn free tokens in exchange for development assistance and raising the recognition of the project. The creators offer typal methods of earning tokens –  placing marketing signatures in the Bitcointalk profile, translating articles, posting to Telegram, creating videos and articles for blogs.
As we can see, IBO is a safe way to enter into new cryptocurrency gambling projects without the risk of losing your investments. Before deciding to participate in the IBO, carefully analyze what the project offers, whether there is already any product or a clear plan for its development. If it's a weird and unpromising product, you should refuse to participate in this game, since there is a risk that you will not receive expected rewards. Remember that success depends on your decisions. Thus, if you want to get some free tokens, just invest your time and take them!